Posts for: September, 2013
By Dr. James Merlo and Dr. Mary A. Merlo-Murison
September 23, 2013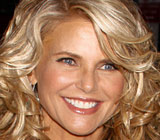 Model Christie Brinkley's smile has been a symbol of America's optimism since the seventies. Particularly well known for being the cover model for three consecutive Sports Illustrated Swimsuit editions, Brinkley still has a fresh-faced American girl-next-door beauty that starts with her cheerful smile, which transmits the message that all is well.
Brinkley's modeling career began when she was "discovered" in Paris in the seventies, at the age of 18. As she explained in an interview with Dear Doctor magazine, it was like a fairy tale. She had gone to study art in Paris, where a fashion designer spotted her walking down the street. "He told me later he immediately thought, 'That's the girl!'" she said.
Brinkley attributes her famous smile to a combination of good genetics (she inherited her mother's "beautiful straight teeth"), combined with the intelligence to practice good oral hygiene and have regular dental appointments. She never needed to have work done to prepare her for the modeling life; but as a teenager, she said, she wished she could wear braces because she thought the "coolest kids had them."
Although dental restorations were not needed to enhance her beautiful natural smile, she did have two dental implants after she fractured two rear molars in a bad helicopter crash while back-country skiing, and she says she is thankful for dental implant technology because it looks and feels so natural.
Brinkley said that her smile led directly to her assignment as spokesperson for a brand of oral rinse and mouthwash products. She is also concerned about the environment. Her company Christie, Inc. is designing environmentally friendly products.
Her advice to everyone is to smile more. "I think a smile makes EVERYONE beautiful! It's the greatest gift we give each other... It's an expression of friendship, love and peace!"
If you have questions about your smile, contact us today to schedule an appointment. Or you can learn more by reading the Dear Doctor magazine article "Christie Brinkley's Supermodel Smile."
By Dr. James Merlo and Dr. Mary A. Merlo-Murison
September 13, 2013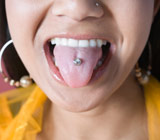 Although sometimes controversial, body piercing has exploded in popularity, especially among young people. Aside from the social debate about such practices, there are health risks to consider. Oral piercings, in particular — especially of the tongue — could have an adverse effect on your dental health.
The trouble begins with the piercing procedure itself. The tongue is composed of a number of muscle groups that given its wide range of function require a lot of energy. To supply this energy the tongue has a large network of blood vessels; during a piercing it's not uncommon for profuse bleeding to occur. The tongue also contains a lot of nerve fibers — a piercing may result not only in severe pain, but in possible nerve damage too.
The tongue bolt, the most common tongue piercing, can cause a lot of damage in the mouth during wear, such as tooth chipping and increased sensitivity. It can also interfere with oral hygiene and contribute to the growth of tooth decay and gum disease. And, as with any cut or abrasion to soft tissue, piercings increase the risk of infection.
There are also issues if and when you decide to give up the tongue bolt — fortunately, though, not to the same degree as during wear. Cuts to the tongue tend to heal quickly, so the piercing hole may fill in spontaneously. In some circumstances, however, a surgical procedure (similar to one performed on large ear piercings) may be required to repair the piercing hole.
For the long-term sake of your oral health, we would advise against having your tongue or lips pierced. And, if you already have a piercing, please consider giving it up — in the long run you'll be doing your teeth, gums and other tissues in your mouth a favor.
If you would like more information on oral piercing and its effects, please contact us or schedule an appointment for a consultation. You can also learn more about this topic by reading the Dear Doctor magazine article "How to Help Your Child Develop the Best Habits for Oral Health."