Posts for: December, 2013
By Dr. James Merlo and Dr. Mary A. Merlo-Murison
December 24, 2013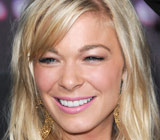 Singer LeAnn Rimes was forced to cancel a string of performances recently, as a more pressing engagement came up: a late-night meeting with her endodontist. It turned out that the country-pop star needed some emergency dental work performed while she was on tour. But her die-hard fans needn't have felt left out — Rimes faithfully tweeted each stage of her dental treatment.
The trouble began before she was scheduled to play a show in Ohio. "Waiting on the endodontist to meet me and do a nighttime root canal," she informed her twitter followers. Instead of performing, Rimes was advised to spend the next few days resting after the emergency treatment. "Happy Friday! I'll be spending mine in bed," she tweeted after the previous evening's procedure. The following Monday, Rimes returned to the dentist's chair for follow-up treatment.
It turned out that the singer had been battling dental pain for months. "I am so disappointed that I can't make it to my fans tonight." Rimes explained in a statement. "I had wanted to give them the show they deserved and only wish this tooth pain held out a little longer."
If there's a moral to this story, it's this: If you have tooth pain, don't wait to see a dentist. Call us right away!
A feeling of constant pain and pressure in your mouth is a clear indication that you may need a root canal. Another telltale symptom is sharp pain when you bite down on food, or lingering pain after eating something hot or cold. Not every symptom is as clear-cut, however — the only way to know for sure whether you need treatment is to come in for an evaluation.
Pain in your teeth or gums may be a symptom of a serious condition. Even if the pain goes away temporarily, an underlying infection generally does not. If a treatment such as root canal therapy is needed, the sooner it is obtained, the better you'll feel. And remember, root canal treatment doesn't cause tooth pain — it relieves it!
If you have any concerns about tooth pain, please contact us or schedule an appointment for a consultation. You can learn more in the Dear Doctor magazine articles "I'd Rather Have a Root Canal" and "Signs and Symptoms of a Future Root Canal."
By Dr. James Merlo and Dr. Mary A. Merlo-Murison
December 10, 2013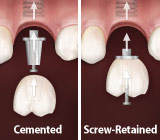 Dental implants have come a long way since their introduction thirty years ago. Unlike their predecessors, today's implants come in various shapes and sizes that can meet the precise needs of individual patients. Crown attachment has also developed some variety.
The actual implant is a titanium post surgically imbedded in the jawbone to replace the original tooth root. The restoration crown, the visible part of the implant system that resembles natural tooth, is affixed to the implant post. There are two basic methods to attach the crown: cement it to an abutment that has been installed in the implant; or screw it into the implant with a retaining screw from the underside of the crown. In the latter case, the abutment has been built into the crown.
While either method provides years of effective service, one method may work better than the other depending on the circumstance. Screw-retained crowns require no cement and are more easily removed than cemented crowns if it becomes necessary. On the other hand, the screw access hole can be visible, although the area can be filled with a tooth-colored filling; and although rare, chips near the access hole can occur. Occasionally the screw may become loose, but tightening or replacing the retaining screw is a simple matter because of the access hole.
A cemented crown looks more like a natural tooth and so is more useful in situations where cosmetics are a factor. The cement, however, can cause inflammation and contribute to bone loss in some patients when excess cement gets below the gums. Unlike a screw-retained crown, removal is more difficult and limited.
As a rule, screw-retained crowns are normally used in areas where the screw hole is not conspicuous, such as for posterior (back) teeth. They're also more desirable than cemented when the implant is permanently crowned at the same time it's surgically implanted, a process called "immediate loading."
Which method of crown attachment is best for you? That depends on the implant location and other factors we would explore during a thorough pre-implant exam. Either way, the end result will be a life-like replica of your natural teeth, and a restored, vibrant smile.
If you would like more information on crown attachment to dental implants, please contact us or schedule an appointment for a consultation. You can also learn more about this topic by reading the Dear Doctor magazine article "How Crowns Attach to Implants."