Posts for: March, 2014
By Dr. James Merlo and Dr. Mary A. Merlo-Murison
March 18, 2014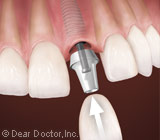 If you've been reviewing tooth replacement options, you probably already know the superior benefits of dental implants: their durability, functionality and life-like quality could provide you with years, even decades of satisfying service.
If you take this option, however, you should be prepared for a slightly longer process than a couple of office visits. From concept to permanent crown placement, it will require several months of preparation, expertise and teamwork. The more you know about this process, the better prepared you'll be to handle it.
After careful preparation, which may include extracting the tooth being replaced, the process begins in earnest with the surgical placement of the implant's titanium post into the jawbone. The surgeon uses a guide based on your bite and mouth structure to precisely implant the post in a pre-planned location: this ensures that the permanent crown will be affixed in the right location for best appearance and functionality.
While a temporary crown can sometimes be attached immediately after implantation, the permanent crown must wait until the bone grows and attaches around the titanium post (osseointegration). Once this has occurred, usually over several months, the implant can fully support the permanent crown and its function.
This last element, the permanent crown, is in many ways a work of art. Taking into consideration the patient's facial features and shape, the type of tooth replaced and the tooth coloring natural to the patient which is transmitted this information to the dental technician who will manufacture the crown. The goal is to produce a life-like replica that will look natural and perform well.
It may seem quite involved, but all these stages are necessary for a successful outcome. Although dental implants take careful attention and time, the outcome is worth it. In the end you'll not only recover lost function, you'll also have a new, transformed smile.
If you would like more information on the procedures for placing dental implants, please contact us or schedule an appointment for a consultation. You can also learn more about this topic by reading the Dear Doctor magazine article "Dental Implants: Evaluating Your Professional Options for Care."
By Dr. James Merlo and Dr. Mary A. Merlo-Murison
March 03, 2014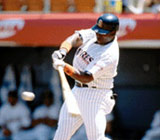 Chewing tobacco is a known cause of oral cancer, yet many a Major League Baseball player has been seen walking onto the field with a round tin visibly poking out of his back pocket. That was before this year. Recognizing the influence big-leaguers have on their young fans, MLB players agreed to a new contract that limits their use of chewing tobacco and their ability to carry it around their fans. The 2012 season is the first to be played under the new rules, which were championed by Baseball Commissioner Bud Selig.
One player who used smokeless tobacco heavily is Baseball Hall of Famer Tony Gwynn. The former Padres slugger earlier this year endured 14 hours of surgery to remove a cancerous growth from the inside of his right cheek and graft a nerve from his shoulder to replace a facial nerve damaged by the tumor. This was Gwynn's second cancer surgery in less than two years.
When it comes to oral cancer, the importance of early detection can't be stressed enough. Unfortunately, this form of cancer is not usually detected until a late stage so the overall survival rate is poor, with only 58% surviving five years after treatment. Yet when oral cancer is detected while a lesion is small, survival rate exceeds 80%. That's why an oral cancer screening is always part of your dental check-up or regular cleaning appointment at this office.
During this screening we will examine your face, neck, lips, mouth, tongue and the back of your throat for any suspicious lesions (sores or ulcers) or lumps. Of course, if you notice any unusual lesions, or color changes (white or red patches), anywhere in your mouth that do not heal within two-three weeks, please come in to see us as soon as possible. And if you need help kicking a tobacco habit, we can advise you on how to get it.
If you would like more information about oral cancer, please contact us or schedule an appointment for a consultation. You can also learn more by reading the Dear Doctor magazine article "Oral Cancer."