Posts for: April, 2014
By Dr. James Merlo and Dr. Mary A. Merlo-Murison
April 17, 2014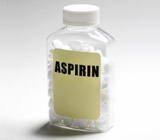 Acetylsalicylic acid (ASA), better known as aspirin, is an effective pain reliever and fever reducer. More recently, its anti-inflammatory properties have become part of the management of cardiovascular disease. But while regular use may benefit your general health, it could complicate your dental care.
Aspirin helps reduce inflammatory pain or fever by blocking the body's formation of prostaglandins, chemicals that contribute to inflammation after trauma or injury. It also prevents blood platelets from sticking and clumping together. While this can prolong normal bleeding and bruising, it also helps the blood move freely through narrowed or damaged blood vessels, which reduces the risk of heart attack or stroke in at-risk cardiovascular patients. Due to side effects from prolonged aspirin use like kidney damage, stomach bleeding, or ulceration, physicians normally prescribe a low aspirin dosage (81 milligrams) to minimize these effects.
Because of its effect on bleeding and clotting, it's important that every member of your healthcare team — including your dentist — knows how much and how often you take aspirin. The change it causes in your body's clotting mechanism may also affect how dental procedures are carried out; by knowing you take aspirin regularly we can take extra precautions to ensure your safety.
In fact, if you've been prescribed aspirin for a heart condition, you may be tempted to stop taking it before a dental procedure out of fear of profuse bleeding. This is highly unadvisable — the sudden discontinuation could increase your risk of heart attack, stroke or even death. You should only discontinue aspirin treatment at the direction of your prescribing physician.
Another aspirin-related effect may involve your gums and other soft tissues. You may notice gum tissue bleeding after brushing or flossing; while this is normally a sign of periodontal gum disease, it could also be the result of your aspirin therapy. The only way to know for sure is to schedule a visit with us to examine your gums.
When it comes to aspirin or other blood-related therapies, the key is to communicate your health status with us, including all medications you are taking. With that knowledge we can provide you with the most informed and safest dental care we can.
If you would like more information on the effects of aspirin on your dental care, please contact us or schedule an appointment for a consultation. You can also learn more about this topic by reading the Dear Doctor magazine article "Aspirin: Friend or Foe?"
By Dr. James Merlo and Dr. Mary A. Merlo-Murison
April 02, 2014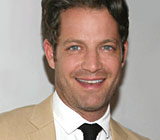 As a successful author, interior design guru (with 127 makeovers in eight years on The Oprah Winfrey Show), and host of his own television program, The Nate Berkus Show, Nate Berkus understands the important role a beautiful smile plays in one's life and career. In a recent interview with Dear Doctor magazine, Nate discussed his oral health history. Berkus credits his all natural smile — no cosmetic dentistry here — to the treatments he received as a child from his dentist. "I'm grateful for having been given fluoride treatments and sealants as a child." He then added that, "healthy habits should start at a young age."
Dental sealants are important because they help protect developing young teeth until the enamel has matured. Without dental sealants, the newly erupted immature enamel of teeth is more permeable, meaning that the acids produced by bacteria in the mouth can damage these teeth more easily. This makes the teeth less resistant and thus more susceptible to tooth decay.
Regardless of how much your children brush their teeth, the reality is that toothbrush bristles cannot reach down to clean out the crevices found in the deep grooves ("pits and fissures") of teeth. And if not removed, the bacteria found in these grooves produce decay-causing acids as a byproduct of metabolizing sugar. However, when sealants are used in combination with fluoride, good hygiene and nutrition (including lower sugar consumption), the odds of having tooth decay is dramatically reduced.
We refer to dental sealants as "pit and fissure" sealants because they protect the grooves found in the top of back teeth and the back of front teeth. Sealants also may reduce the need for subsequent treatments as your child grows older — just as it did for Nate Berkus. For these reasons, sealants are definitely something that all parents and caregivers should consider for their young children.
To learn more about dental sealants, contact us today to schedule an appointment so that we can conduct a thorough examination, discuss any questions you have as well as what treatment options will be best for you or your child. Or to learn more about sealants now, you can continue reading the Dear Doctor magazine article "Sealants for Children." And to read the entire interview with Nate Berkus, please see the Dear Doctor magazine article "Nate Berkus."