Posts for: February, 2015
By Dr. James Merlo and Dr. Mary A. Merlo-Murison
February 27, 2015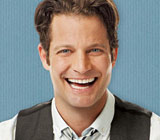 Design expert and television celebrity Nate Berkus has definite ideas about how to live. In a recent interview, he explained his ideas on design. He also talked about health, and how he keeps his teeth and mouth healthy.
From an initial design makeover that he did eight years ago on the Oprah Winfrey Show, Berkus has gone on to do 127 such makeovers. He was such a success that he now hosts his own daily talk show. He has also developed a line of home products for the Home Shopping Network and has his own design firm, Nate Berkus Associates. His clients include well-known restaurants and hotels as well as private homes. He has written articles for O Magazine and authored a book on the subject of transforming your home into a place you love.
"I realized many years ago that I wasn't going on Oprah to pick sofa colors and paint chips. I was there to lift people up through the way they live," he says. His secret to design success is to "go with what you love." He says, "Don't worry about mixing metals, eras or styles. If you love each item, you'll find a way to make it work."
His common sense practical attitude continues when it comes to dental health. Berkus is blessed with a healthy mouth and teeth. He doesn't feel anxious when visiting the dentist because he usually has a good report. He has not needed orthodontics or cosmetic dentistry. He thanks his childhood dentist for giving him fluoride treatments and sealants, and for teaching him healthy dental hygiene habits.
Berkus brushes his teeth twice or even three times a day, with a manual or electric toothbrush — depending on whether he is at home or traveling. He also follows his dentist's advice about flossing: "Floss the ones you want to keep!" He says that he tried tooth whitening once, but he felt that the whiteness was "too white." Now he simply works to maintain his natural tooth color and smile.
Contact us today to schedule an appointment to discuss your questions about maintaining healthy teeth. You can also learn more by reading the Dear Doctor magazine article "Nate Berkus, Helping Others Love the Way They Live."
By Dr. James Merlo and Dr. Mary A. Merlo-Murison
February 12, 2015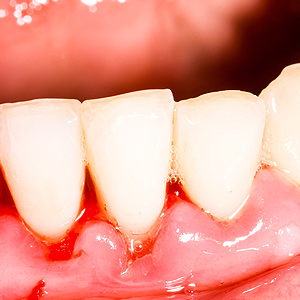 Periodontal (gum) disease is a devastating infection that eventually causes tooth loss if not treated. Plaque removal, antibiotics and possible surgical intervention have proven quite effective in stopping the infection and restoring diseased tissues; however, the more advanced the disease, the more difficult it can be to treat. It's important then to know the warning signs of gum disease.
Bleeding gums are the most common early sign of gum disease. The infection triggers tissue inflammation, the body's defensive response to isolate and fight bacteria. As the inflammation becomes chronic, however, it can weaken the gum tissues, which will then bleed easily.
Bleeding, though, is often overlooked as normal, perhaps from brushing too hard. In actuality, bleeding gums is not normal: if your gums routinely bleed during normal brushing and flossing, you should contact us for an examination as soon as possible. Similarly, if your gums are red, swollen or tender to the touch, this is also a sign of inflammation and an indication of infection.
Gum disease is often called a "silent" disease, meaning it can develop without any indication of pain or discomfort. Sometimes, though, bacteria can concentrate in a particular portion of the gum tissue to form a periodontal abscess. In this case, the abscessed tissue can become very painful, swollen and red, and may even discharge pus.
There are also advanced signs of gum disease. If your teeth are painfully sensitive when you brush, consume something hot or cold, or when you bite down, this may mean the gums have pulled back (receded) from the teeth and the highly sensitive dentin and roots are now exposed. Teeth that appear to have moved or that feel loose may mean the gum tissues have significantly detached from the teeth as increasing amount of bone loss occurs. If you see any of these signs you should contact us without delay.
Regardless of the level of disease advancement when diagnosed, prompt treatment should begin as soon as possible. This is the only way to bring the infection under control and give the gum tissues a chance to heal and rejuvenate. From then on, it's a matter of renewed dental hygiene, frequent cleanings and checkups and an ever vigilant eye for signs of returning infection.
If you would like more information on the diagnosis and treatment of gum disease, please contact us or schedule an appointment for a consultation. You can also learn more about this topic by reading the Dear Doctor magazine article "Warning Signs of Periodontal (Gum) Disease."