Posts for: April, 2015
By Dr. James Merlo and Dr. Mary A. Merlo-Murison
April 23, 2015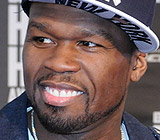 On his way to the top of the urban contemporary charts, the musician, actor and entrepreneur known as 50 Cent (born Curtis James Jackson III) earned his street credibility the hard way; his rise from youthful poverty to present-day stardom is chronicled in many of his rhymes. So when it came time for the rapper to have cosmetic work performed on his teeth, he insisted on doing it in his own way.
"I told [the dentist] to leave [my front teeth] a little bigger than the other ones, because I need to still see me when I look in the mirror," he told his co-host on the New York radio station Power 105.1. "Don't give me no whole 'noter guy — I like me!"
We understand how 50 Cent feels — in fact, we think it's a perfectly reasonable request.
Cosmetic dentistry has come a long way in recent years, as we strive to meet the increasing expectations of our patients. We realize that different people have different perceptions of what makes a smile attractive — and that in dental aesthetics, beauty really is in the eye of the beholder. That's why, before we begin cosmetic work, we want to hear what you like and don't like about your smile as it is now. In addition, we can also perform what is called a "smile analysis."
This procedure doesn't cause any discomfort — but it's a crucial part of cosmetic enhancement. In doing the analysis, we look at the various parts of an individual's smile: the spacing, size and alignment of the teeth; the health and position of the gum line; the relationship of the upper and lower jaws; and the relative shape and size of the face. All of these features combine to make a person's smile unique. By looking at them closely, we can help determine the best way for you to improve your smile.
But how can you tell if the cosmetic changes you're contemplating will end up being just right for you? Fortunately, with today's technology, it's easier than ever. Computer imaging offers a chance to visualize the final outcome before we start working on your teeth; it's even possible to offer previews of different treatment options. If you want to go a bit further, we may be able to show you a full-scale model of your new smile.
In some situations, we can even perform a provisional restoration — that is, a trial version of the new smile, made with less permanent materials. If the "temporary" smile looks, feels, and functions just right, then the permanent one will too. If not, it's still possible to make changes that will make it work even better.
Whether you're thinking about having teeth whitening, cosmetic bonding, porcelain veneers, or dental implants to improve your smile, you probably have a picture in your mind of how the end result should look. Will your teeth be perfectly even and "Hollywood white" — or more "natural," with slight variations in size, spacing and color allowed? Either way, we can help you get the smile you've always wanted.
If you would like more information about smile makeovers and options in cosmetic dentistry, please contact us or schedule an appointment for a consultation. You can learn more by reading the Dear Doctor magazine article "Cosmetic Dentistry."
By Dr. James Merlo and Dr. Mary A. Merlo-Murison
April 08, 2015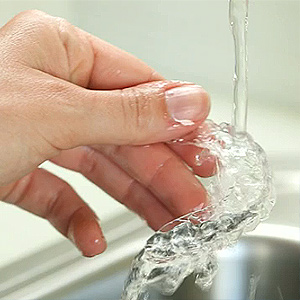 Question: What oral health issue do teenagers who wear orthodontic retainers and older folks who wear dentures have in common?
Answer: Both need to pay particular attention to cleaning their oral appliances.
The same goes for anyone who wears a nightguard to control tooth grinding, a mouthguard to protect teeth while playing sports, or a clear aligner for orthodontic treatment. Yet many people aren't sure how to properly clean their appliances — so here are a few handy tips:
DON'T:
Use toothpaste on your appliance — the ingredients in toothpaste, which are designed to polish the hard enamel of your teeth, are too abrasive for the soft plastic of oral appliances, and will cause scratches.
Boil your appliance, or use bleach to clean it — both will end up breaking down and destroying the appliance. Don't even use very hot water, as it can deform the plastic and make the appliance useless.
Leave your appliance out on the nightstand, or anywhere else — pets and small children have been known to find (and destroy) oral appliances left lying around. Instead, store it properly in its special case.
DO:
Use liquid dish detergent or hand soap to clean your appliance. A little mild soap plus warm water will do a great cleaning job. While you're at it, get a brush just for the appliance — because, while it's fine for plastic, you don't want to brush your teeth with soap!
Put a towel in the sink basin when you clean your appliance. Soapy appliances (especially dentures) can be slippery, and can be damaged by dropping — and that's an expensive mishap.
Consider investing in an ultrasonic cleaner. These inexpensive countertop devices are an excellent way to get the tiny ridges and crevices of your appliance really clean.
Whether you rely on dentures for everyday use, or just need to wear a retainer for a period of time, your oral appliance serves an important function. It may also represent a significant investment. That's why it's worthwhile to spend a few minutes each day giving these important items the care they need.
If you have questions about oral appliance care, please contact us or schedule an appointment.