Posts for: October, 2016
By Dr. James Merlo and Dr. Mary A. Merlo-Murison
October 22, 2016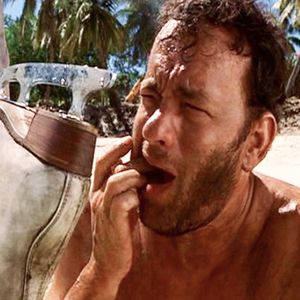 Did you see the move Cast Away starring Tom Hanks? If so, you probably remember the scene where Hanks, stranded on a remote island, knocks out his own abscessed tooth — with an ice skate, no less — to stop the pain. Recently, Dear Doctor TV interviewed Gary Archer, the dental technician who created that special effect and many others.
"They wanted to have an abscess above the tooth with all sorts of gunk and pus and stuff coming out of it," Archer explained. "I met with Tom and I took impressions [of his mouth] and we came up with this wonderful little piece. It just slipped over his own natural teeth." The actor could flick it out with his lower tooth when the time was right during the scene. It ended up looking so real that, as Archer said, "it was not for the easily squeamish!"
That's for sure. But neither is a real abscess, which is an infection that becomes sealed off beneath the gum line. An abscess may result from a trapped piece of food, uncontrolled periodontal (gum) disease, or even an infection deep inside a tooth that has spread to adjacent periodontal tissues. In any case, the condition can cause intense pain due to the pressure that builds up in the pus-filled sac. Prompt treatment is required to relieve the pain, keep the infection from spreading to other areas of the face (or even elsewhere in the body), and prevent tooth loss.
Treatment involves draining the abscess, which usually stops the pain immediately, and then controlling the infection and removing its cause. This may require antibiotics and any of several in-office dental procedures, including gum surgery, a root canal, or a tooth extraction. But if you do have a tooth that can't be saved, we promise we won't remove it with an ice skate!
The best way to prevent an abscess from forming in the first place is to practice conscientious oral hygiene. By brushing your teeth twice each day for two minutes, and flossing at least once a day, you will go a long way towards keeping harmful oral bacteria from thriving in your mouth.
If you have any questions about gum disease or abscesses, please contact us or schedule an appointment for a consultation. You can learn more by reading the Dear Doctor magazine articles "Periodontal (Gum) Abscesses" and "Confusing Tooth Pain."
By Dr. James Merlo and Dr. Mary A. Merlo-Murison
October 07, 2016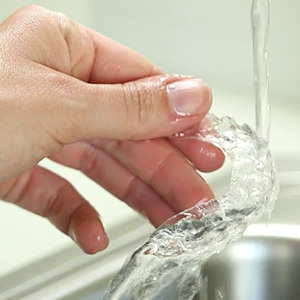 Oral appliances run the gamut from night guards and retainers to full or partial dentures. Millions of people depend on them for restoring or maintaining dental health.
Today's user-friendly appliances reflect the latest advances in technology. But that doesn't mean you can simply "place them and forget them." Their longevity depends on taking care of them.
The most important aspect of appliance care is keeping them clean. Although bacteria have no effect on an appliance's materials, they can accumulate on its surfaces and raise the risk your natural teeth and gums will be infected. To reduce that risk you should clean your appliance every day.
The best way is with a countertop ultrasonic cleaner. These units emit high frequency sound vibrations that loosen plaque (a thin film of bacteria and food particles) from even the appliance's tiniest crevices. Most units cost between $40 and $60, and pose less of a scratching risk to the appliance's surfaces than manual cleaning.
If you'd prefer to use a brush, there are some dos and don'ts to follow. You can use a cleaner especially designed for your appliance, but less expensive mild dish detergent or hand soap (with an antibacterial agent) will work too. Don't use toothpaste — most contain an abrasive ingredient for removing plaque from enamel that could leave microscopic scratches on your appliance. Use a soft-bristle toothbrush (but not the one you use for your natural teeth) or one designed for your appliance.
While boiling kills bacteria, the high heat can soften and warp the plastic material in an appliance. This could alter how the appliance fits in your mouth, making them loose and uncomfortable to wear. You should also avoid bleach: it can whiten acrylic or nylon designed to mimic the red color of real gum tissue.
Unless we've advised you otherwise, don't wear the appliance around the clock, a practice that raises the chances of bacterial accumulation. And be sure you also brush and floss your natural teeth every day.
Keeping both your mouth and your appliance clean helps ensure the best oral health possible — and that your appliance will last longer.
If you would like more information on caring for oral appliances, please contact us or schedule an appointment for a consultation.