Posts for tag: braces
By Dr. James Merlo and Dr. Mary A. Merlo-Murison
May 29, 2015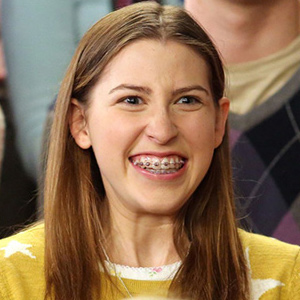 Fans of the primetime TV show The Middle were delighted to see that high school senior Sue, played by Eden Sher, finally got her braces off at the start of Season 6. But since this popular sitcom wouldn't be complete without some slapstick comedy, this happy event is not without its trials and tribulations: The episode ends with Sue's whole family diving into a dumpster in search of the teen's lost retainer. Sue finds it in the garbage and immediately pops it in her mouth. But wait — it doesn't fit, it's not even hers!
If you think this scenario is far-fetched, guess again. OK, maybe the part about Sue not washing the retainer upon reclaiming it was just a gag (literally and figuratively), but lost retainers are all too common. Unfortunately, they're also expensive to replace — so they need to be handled with care. What's the best way to do that? Retainers should be brushed daily with a soft toothbrush and liquid soap (dish soap works well), and then placed immediately back in your mouth or into the case that came with the retainer. When you are eating a meal at a restaurant, do not wrap your retainer in a napkin and leave it on the table — this is a great way to lose it! Instead, take the case with you, and keep the retainer in it while you're eating. When you get home, brush your teeth and then put the retainer back in your mouth.
If you do lose your retainer though, let us know right away. Retention is the last step of your orthodontic treatment, and it's extremely important. You've worked hard to get a beautiful smile, and no one wants to see that effort wasted. Yet if you neglect to wear your retainer as instructed, your teeth are likely to shift out of position. Why does this happen?
As you've seen firsthand, teeth aren't rigidly fixed in the jaw — they can be moved in response to light and continuous force. That's what orthodontic appliances do: apply the right amount of force in a carefully controlled manner. But there are other forces at work on your teeth that can move them in less predictable ways. For example, normal biting and chewing can, over time, cause your teeth to shift position. To get teeth to stay where they've been moved orthodontically, new bone needs to form around them and anchor them where they are. That will happen over time, but only if they are held in place with a retainer. That's why it is so important to wear yours as directed — and notify us immediately if it gets lost.
And if ever you do have to dig your retainer out of a dumpster… be sure to wash it before putting in in your mouth!
If you would like more information on retainers, please contact us or schedule an appointment for a consultation. You can learn more in the Dear Doctor magazine articles "The Importance of Orthodontic Retainers" and "Why Orthodontic Retainers?"
By Dr. James Merlo and Dr. Mary A. Merlo-Murison
December 29, 2014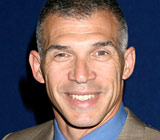 Sometimes, we all need a bit of prompting to do what's good for us. When Serena Girardi, the 10-year-old daughter of New York Yankees manager Joe Girardi, needed to have orthodontic treatment, she was a little nervous. To help lessen her anxiety, Girardi, then 45 years old, made a deal: if she got braces, then he would too.
"What I didn't realize," said Girardi in an interview with ESPN, "is that she only had to get four on her front teeth and I got the full mouthful."
But that didn't stop the baseball great from keeping up his end of the bargain. In a separate deal with his son Dante, who also needed braces, Girardi agreed to wear blue rubber bands. "It's a good look," he said. What will he do if his third child needs braces? Stay tuned...
Whether it starts as a bargain with your kids or as a promise to yourself, orthodontic treatment can offer real benefits at any age. In fact, about one out of five orthodontic patients today is an adult. Studies have shown that up to three-quarters of all adults have some form of orthodontic problem, like drifting or crowding of teeth. And having a great-looking smile not only improves self-confidence, but can also boost an adult's social life, and even enhance his or her career opportunities.
If you or your child may need braces, but you're put off by the dreary metal hardware you remember from back in the day, take heart! Plenty has changed in the field of orthodontics since you were a teenager — and it's not just the color of the rubber bands.
In many cases, clear or colorless ceramic braces can be used instead of metal ones. These stain-resistant orthodontic appliances blend in well with your own teeth, making them much less evident. It may be possible for them to be placed on the lingual (tongue) side of the teeth, where they're even less visible.
Clear aligners offer an alternative to braces that's appropriate for some people. Aligners are a series of precision-made "trays" composed of polyurethane plastic. Worn 20-22 hours per day for a period of months, these appliances gradually move teeth into an improved position. Besides being virtually invisible, another advantage of these trays is that they may be removed for eating and for important occasions. Once recommended only for adults, they have recently become available to teenagers as well.
What's the best way to find out whether you or someone in your family could benefit from orthodontics, and which treatment option best suits your individual needs? Come in to our office for a consultation! After a thorough examination, we would be happy to recommend the most appropriate treatment methods for your particular situation.
If you have questions about orthodontic treatment, please contact us or schedule an appointment for a consultation. You can learn more in the Dear Doctor magazine articles "Orthodontics For The Older Adult" and "Clear Aligners for Teenagers."
By Dr. James Merlo and Dr. Mary A. Merlo-Murison
October 30, 2013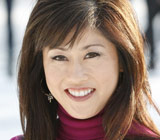 If Kristi Yamaguchi's kids inherit her figure skating ability, they might just be headed for the Olympics — after all, their mom won the gold medal for figure skating in the 1992 games. When it comes to teeth, however, she wouldn't mind if they inherited her spouse's instead. "My husband [fellow Olympian turned pro hockey player Bret Hedican] never had braces," she recently told an interviewer. "I'm hoping they get his teeth."
When you look at the elegant skating star's pearly smile, you'd never suspect she had dental problems. In fact, Kristi had four permanent teeth extracted to relieve the crowding in her mouth. She also wore braces to correct irregularities in both upper and lower teeth. Could orthodontics work the same "magic" for your kids — or yourself?
It just might. The first step toward finding out is having an orthodontic evaluation. For kids, the right time for an initial evaluation is no later than age 7. By then, the first molars are usually present and your child's bite pattern is establishing. Even though treatment may not begin for several more years, it's helpful to know what problems may arise in your child's individual situation — and to start treating them at just the right time.
Orthodontics has progressed a great deal in the two decades since Yamaguchi's braces came off. Today, small devices called palatal expanders are often used to create more space in the mouth, as an alternative to tooth extraction. There are also many new options for orthodontic appliances, in addition to standard metal braces. These include unobtrusive tooth-colored braces and lingual braces, which are applied to the tongue side of the teeth and can't be seen. In some cases, clear plastic aligners can be used instead of braces, for a look that's almost invisible.
Adolescence is often the preferred time to do orthodontic treatment. By then, the permanent teeth have mostly come in, but there's still some growing left to do. But age isn't a factor that should stop you from getting the smile you've always wanted. About one in five orthodontic patients today is an adult — and those less-visible appliances can fit in well with the more "professional" image of an older person.
Orthodontics can't help make someone an Olympic athlete — only lots of talent and practice can do that. But it can make a big difference in a person's appearance. "Once my braces came off, it was like — Wow! That looks so much nicer," Yamaguchi recollected. And today, the mother of two, author, and philanthropist sports the same appealing smile she had on the podium at the Albertville Olympic Games.
If you would like more information on how orthodontics could help you get the smile you've dreamed about, please contact us or schedule an appointment for a consultation. You can also learn more about this topic by reading the Dear Doctor magazine articles "Early Orthodontic Evaluation" and "The Magic of Orthodontics."