Posts for tag: nutrition
By Dr. James Merlo and Dr. Mary A. Merlo-Murison
August 08, 2016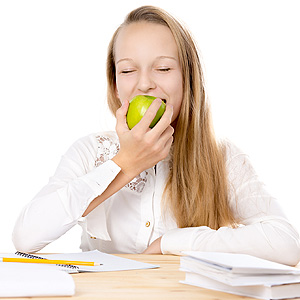 "The Freshman 15" is a popular way of referring to the phenomenon of new college students gaining weight during their freshman year (although the average is less than fifteen pounds). According to research, college students gain weight mainly due to an unhealthy diet and lack of exercise.
If you're experiencing this as a college student, you should also know poor diet and lifestyle choices harm your teeth and gums as well. If you don't want to encounter major dental problems, then you need to make some changes beginning with the same cause for your weight gain: what you eat and drink.
Like the rest of your body, your teeth and gums have the best chance for being healthy when you're eating a balanced, nutritional diet low in added sugar. And it's not just mealtime: constant snacking on sweets not only loads on the calories, it also feeds disease-causing oral bacteria. Sipping on acidic beverages like sodas, sports or energy drinks also increases the levels of acid that can erode tooth enamel.
Some lifestyle habits can also affect oral health. Using tobacco (smoked or smokeless) inhibits your mouth's natural healing properties and makes you more susceptible to dental disease. While it may be cool to get piercings in your lips, cheeks or tongue, the hardware can cause gum recession, chipped teeth and soft tissue cuts susceptible to infection. And unsafe sexual practices increase your risk for contracting the human papilloma virus (HPV16) that's been linked with oral cancer, among other serious health problems.
Last but not least, how you regularly care for your teeth and gums can make the biggest difference of all. You should brush and floss your teeth ideally twice a day to clean away plaque, a thin film of disease-causing bacteria and food particles. And twice-a-year dental cleanings and checkups will round out your prevention efforts against tooth decay or periodontal (gum) disease.
Making your own choices is a rite of passage into adulthood. Making good choices for your teeth and gums will help ensure they remain healthy for a long time to come.
If you would like more information on maintaining dental health during the college years, please contact us or schedule an appointment for a consultation. You can also learn more about this topic by reading the Dear Doctor magazine article "10 Health Tips for College Students."
By Dr. James Merlo and Dr. Mary A. Merlo-Murison
March 25, 2016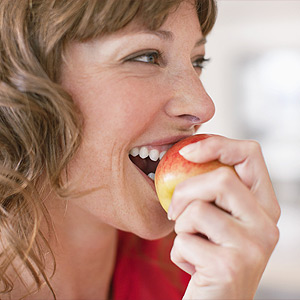 Good nutrition is vital for maintaining health and preventing disease, especially for your mouth. A diet rich in whole foods — fresh fruits and vegetables, protein and dairy products — and low in sugar will not only promote strong teeth and gums, but lessen your chances of developing tooth decay or periodontal (gum) disease.
Diet is also a prominent factor in reducing the risk for another serious mouth disease — oral cancer. While oral cancer makes up only 3% of total cancer cases reported annually, the five-year survival rate is a sobering 50%, much lower than for other types of common cancers. While genetics plays a role in your susceptibility to oral cancer, lifestyle choices and practices present the greater risk factors for the disease.
Of these lifestyle factors, refraining from tobacco products, moderating your alcohol consumption and avoiding risky sexual behavior are of primary importance in reducing your cancer risk. With that said, you should also take into account the foods that are part of your daily diet — both what you should and shouldn't eat. As an example of the latter, some foods contain a class of chemicals known as nitrosamines that are carcinogenic (cancer-causing). One such chemical, nitrite, is used as a preservative in meats like bacon or ham, and may also be found in beer, and seafood products.
On the positive side, your diet should be rich in foods that supply antioxidants, substances that protect the body's cells from damaging, unstable molecules known as free radicals. The best sources for antioxidants (more so than dietary supplements) are plant foods rich in fiber and vitamins C and E. Eating more of these may also reduce your intake of nitrates, animal fat and saturated fat.
Adopting a moderate, nutritious diet, along with exercise, can have a huge positive impact on your general health and quality of life. Along with other lifestyle changes, better dietary choices can also help ensure a healthy mouth and reduce your risk of oral cancer.
If you would like more information on the role of nutrition in reducing your risk of oral cancer, please contact us or schedule an appointment for a consultation. You can also learn more about this topic by reading the Dear Doctor magazine article "Diet and Prevention of Oral Cancer."